1/28/22 What's Trending This Week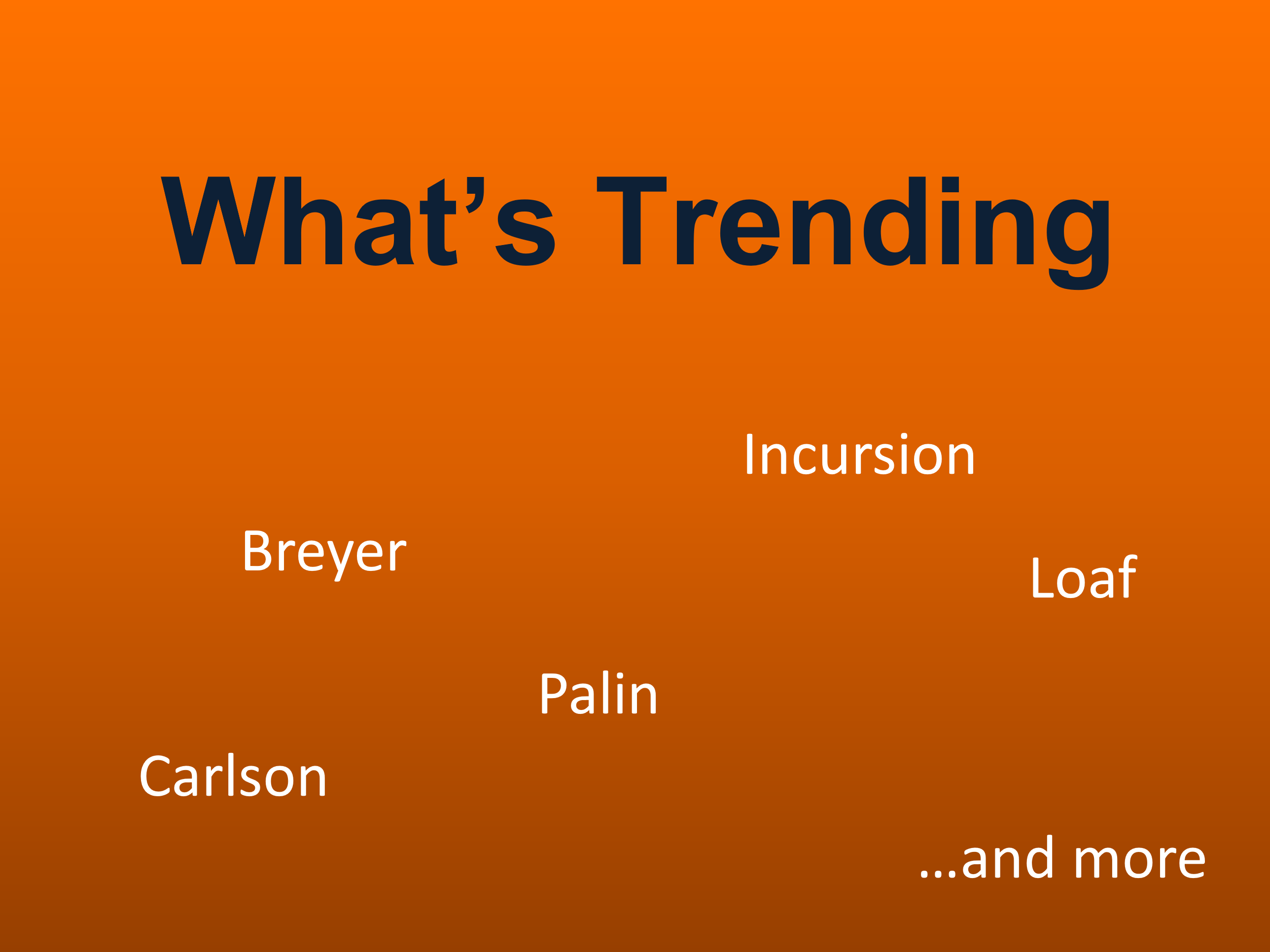 Hello!

Here's what's trending this week in newsletters...enjoy!
This week around 8000 issues came in…
Several trending terms relate to the Russian-Ukraine conflict, but other than that, none are tied together too closely. As predicted last week Loaf, of Meat Loaf who passed away about a week ago, did eventually make its way onto the leaderboard of emerging terms!

(Click on any of the terms to learn more about them and read newsletter issues they're in)


Newly Emerging Terms
Breyer... Supreme Court Justice Stephen Breyer announced he's going to retire
Loaf... As in the American signer Meat Loaf who died at the end of last week
Rodgers... Related to Aaron Rodgers, of the Green Bay Packers
Carlson... as in Tucker Carlson, American Fox News host, who's supporting Russia in the current Russia-Ukraine crisis. Ugh.
Palin & defamation... Sarah Palin, former Alaskan Governor, is unvaxxed-- and got covid again (for at least the third time), which delayed her defamation trial against the New York Times this week. Oh, and she ate outdoors two days after testing positive, causing much hullabaloo.

Biggest Increase in Usage from Previous Week
embassy (>200%)... mentions of several embassies, but mainly driven by the US embassy in Kyiv, Ukraine, which recommended US citizens should consider departing
roe (>220%)... 49th anniversary of Roe v. Wade and discussions about its future and the ripple effects an overturn would have
incursion (~200%)... related to the possibility of a Russian incursion against Ukraine. Double ugh.

Most Used Terms
Note that these "Most Used" terms tend to be used very broadly, in lots of contexts... vs. the other "Emerging" and "Biggest Usage Increase" terms which are, as you can tell, quite narrow and likely more meaningful/interesting.
By the time you read this, there will surely be some new trending topics, since they're updated in real time as newsletters come in. You can always check them on narrowSCALE'S home page if you're curious.

If you know someone who may enjoy this newsletter (or the trending topics), feel free to forward!

And if you're looking for any specific newsletters to read, you can always email me or explore narrowSCALE.

If someone forwarded you this issue, you can subscribe via the button below!
Missing a past issue? See our archive here.
Copyright © 2022 narrowSCALE, All rights reserved.