6/11/21 Recommended Issues: Degrees of Difficulty, Bitcoin, Sage Thoughts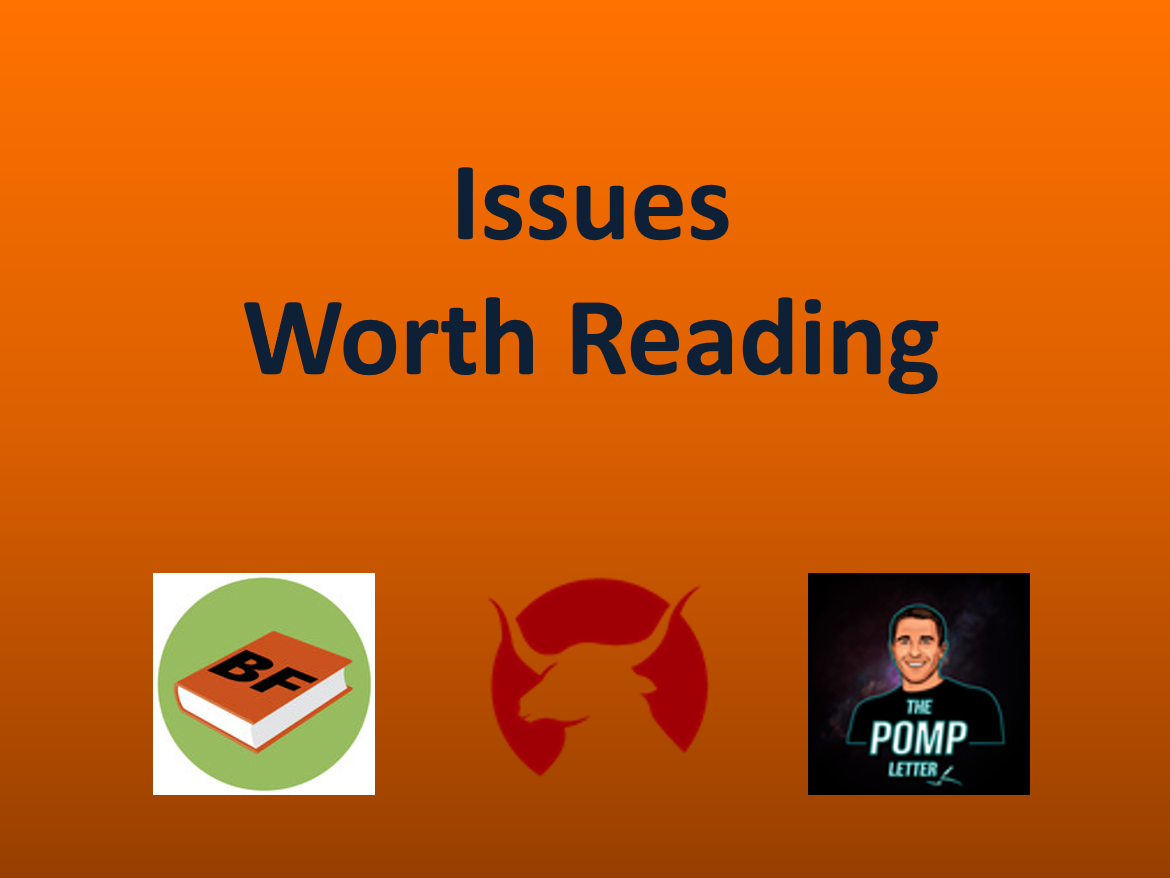 Good day!

Each week we handpick newsletter issues by independent writers you may have missed that provide new or unique perspectives.

If you read last week's and would like to subscribe or leave a review of any of the highlighted newsletters, you can do that here: Things under the Sun, The Profile, and Noahpinion. The narrowSCALE community really appreciates it!

Also, if someone forwarded you this and you'd like to subscribe, you can do that here -- thanks!)

Here's what's worth reading this week...enjoy!
---
DEGREES OF DIFFICULTY
Degrees of Difficulty in Marketing BS with Edward Nevraumont on Jun 9
This issue will make you think about how degrees of difficulty are (or more often aren't) factored into outcome measurements. You do see degrees of difficulty included in sports (think scoring for gymnastics, diving, etc), but how about in business growth, sales leads, CEO performance, etc? How could (or should?) you think about the impact of degrees of difficulty when considering outcomes, goals, incentives/rewards, etc. There aren't easy answers, but you'll be left with a lot of questions and new perspectives. (2316 words; 8.5 minutes) Read it...

IS BITCOIN RANGEBOUND?
Bitcoin Is Stuck In No Mans Land in The Pomp Letter by Anthony Pompliano on Jun 4
This issue deep dives you into what's up with Bitcoin right now, why the price is likely bouncing around (but not escaping) the mid-high 30s, and how it can break out of that range. Anthony provides solid charts and graphs to help explain what he's talking about-- and while the issue does go into some pretty deep technical details, even if you don't quite grok it all, you'll still walk away with a better understanding of why Bitcoin is where it is now, what/who is driving it, and what change could look like... (979 words; 3.5 minutes) Read it...

COURAGE TO BE DISLIKED
The Courage to Be Disliked in Book Freak by Mark Frauenfelder
While it's generally tough to summarize a whole book in four pithy take-aways, that's exactly what Mark pulls off in this issue.
He shrinks a book called "The Courage to be Disliked" into four bullets, each with an accompanying quote that will give you pause and make you think.
Here's number one:
"Do not live to satisfy the expectations of others: 'The courage to be happy also includes the courage to be disliked. When you have gained that courage, your interpersonal relationships will all at once change into things of lightness'
."
Consider this your super quick weekend dose of introspection.
(286 words; 1 min)
Shortest newsletter ever...
Read it
...

Learnings from newsletters this week:
For early access to the new features launching on narrowSCALE...let me know.

If you know someone who may enjoy this newsletter, feel free to forward!

And if you're looking for any specific newsletters to read, you can always email me or explore narrowSCALE.
Also, if you're not subscribed to THIS newsletter yet, please subscribe here :)!
Best,
~Jessica